Facts about Kingston
1. Kingston was founded in 1692, as a place for survivors of the earthquake that destroyed Port Royal.
2. It is the capital and largest city of Jamaica, located on the southeastern coast of the island.
3. Kingston is the seat of Government in Jamaica and the island's business capital.  Even with the many opportunities for business, the resort area of Kingston is known for its cultural, educational and leisure options as well. There are arguably more museums, dining and nightlife, and event options than anywhere else on the island.
4. It has the largest botanical gardens in the Caribbean. At 2000 acres, Hope Gardens is home to many indigenous plants as well as the Coconut Museum, Sunken Gardens, Orchid House, the Lily Pond, Maze, and Palm Avenue. A true must-see.
5. For some of the city's best ice cream, pastry, gourmet cuisine and Jamaican gems, visit Devon House, one of Kingston's favorite historical mansions. Simply delicious.
Devon House
Built in 1881, Devon House remains one of Kingston's greatest landmarks and historic heritage sites. It is a representation of Jamaica's rich cultural diversity, with its Georgian Jamaican architecture, typical of plantation homes built by British colonists at the height of the slave trade. The house is decorated with 19th–century furniture, recreating a view of the past. Tours of both the house and the property are available, on which you'll learn more about the house's history and what it represents for Jamaicans today. On the grounds of the estate, there are many shops, restaurants, and cafes.
The 10 Best Bars In Kingston, Jamaica
You'll never have a boring night in Kingston. Jamaica's capital is home to half the country's population and as the rum capital of the world, it has some of the best nightlife in the Caribbean. We list some top spots to find fun and a strong drink.
CRU Bar and Kitchen
Located in a busy shopping center, CRU is a rooftop bar serving some of the best cocktails in Kingston. Their central location is great for barhopping and getting to other nightclubs in the area. Kingston isn't a pedestrian-friendly city, so we suggest using a taxi service or joining the company of a few locals. The decor is modern and inviting, with lots of open space and seating. They host monthly events that feature live music and DJs from across the island. The crowd varies from day-to-day, but you'll always find good food, drinks, and company.
 Regency Bar and Lounge
Located at The Terra Nova Hotel, one of Kingston's finest, Regency Bar is as regal as it sounds. In recent years, the bar has been refurbished and has become a hot spot for locals and expats in Kingston. The bar offers a wide selection of wines, beers, liquors, and spirits poured perfectly every time. With both indoor and outdoor seating and bar service, it offers the best of both worlds. We recommend going early, as both parking and finding seating is nearly impossible by 10 pm.
The Macau Gaming Lounge and Bar
If you're hoping to test your luck while out for drinks with a few friends, Macau is the perfect place. Though the bar has a casino, its best feature is the outdoor patio seating that provides a relaxed environment in which to enjoy a few drinks and the night sky. Macau is known for frozen cocktails, which come in every color imaginable. For warm summer nights, nothing is better, except maybe an ice-cold Red Stripe. This is one of the few bars that stock the one liter bottle of the locally brewed lager if you're up for the challenge.
Mahogany Tree Bar
Inside the historic Devon House complex, the Mahogany Tree Bar provides a unique tropical ambiance compared to other outdoor bars in Kingston. Tucked inside a small corner of a national heritage site, you'll be sipping cocktails next to ferns, palm trees, and the massive mahogany tree that is the centerpiece of the bar. You'll want to arrive early to find seating though. On Friday nights Devon House hosts a casual party with live DJs that play the latest Jamaican and international music.
JoJo's Jerk Pit
A night at JoJo's is always better at the bar. The casual setting is the perfect place to unwind after a long day. No frills or special decor, no fuss or excessive attention, just an awesome space for relaxed vibes and great company. Even if you do just go for the bar, you might not be able to resist ordering some food off the menu, and we recommend it. Their jerk chicken is the perfect complement to an ice-cold Red Stripe.
Distill Bar
Head to Distil Bar on Wednesday nights for their Wine Wednesdays inclusive event. For a flat rate, you can enjoy an endless selection of red, white, and sparkling wines, as well as rum and vodka specials. The relaxed environment is the perfect place to chill out in. Located in a popular restaurant district called Marketplace, Distill is near seven great dining spots; pick one to have a meal at before you hit the drinks.
Medusa Bar and Grill
Medusa has endless cocktails every Wednesday night for around $1000 JMD (that's $8.50 USD or £5.50). You won't find a better deal in Kingston. The music is always great, with live DJs playing the best in reggae, dance hall, and international hits. The bar hosts special events on most nights, ranging from special food deals to karaoke, but it varies week to week.
Redbones Blues Café
If top 40 hits, dance hall, and hip-hop aren't your thing, grab a drink at Redbones. The restaurant and bar have weekly live performances that attract the best musicians, poets, and artists on the island. The eclectic decor and tropical outdoor seating area provide the perfect environment to enjoy one of their signature cocktails while listening to incredible jazz, reggae, and poetry readings. The venue also acts as an art gallery, displaying some of Kingston's finest painters working in a variety of mixed media.
The Terrace at Susie's Bakery and Coffee Bar
Susie's is a coffee shop by day and a cocktail bar at night. The restaurant and bar are owned by one of Jamaica's most beloved bakers, Susie Hanna, who's been in business for more than 20 years. The outdoor bar is the most recent addition to the establishment. Though the bar is quite small, there is plenty of seating provided in the beautiful courtyard surrounding the restaurant. At night, hanging lights create a golden glow around the lily-filled fountain at the center of the courtyard. If you're looking for a more relaxed setting to enjoy great drinks, The Terrace is the place.
Usain Bolt's Tracks and Records
If you're looking for a place to watch "the big game", whatever sport that might be, this is the place to go. Named after the fastest man alive, Jamaica's sprint king Usain Bolt, Tracks and Records is as good as a sports bar can get. Watching a game or grabbing a drink at Tracks and Records is a total experience. The moment you walk in, you'll be welcomed by friendly staff and the urban decor that celebrates Jamaican culture, music, and people. The menu showcases Bolt's love for good food and drinks, while the music and vibes are reflective of his charisma and energy.
 -------------------------------------------------------------------------------------------
PARKS
Hiking in the Blue Mountains
The Blue Mountains loom over the northern areas of Kingston, shading the region from the harsh Caribbean sun. The Blue Mountain National Park is a wonderful escape for anyone hoping to enjoy a bit of wilderness and untouched beauty while visiting Jamaica. Hiking to the peak can take anywhere from four to eight hours depending on where you start and your experience. On clear days, the southern coast of Cuba can be seen from the top. If you're looking for something less challenging, head to Hollywell National Park for an outdoor picnic.
Spa day at Strawberry Hill
Strawberry Hill is a hotel and estate located in the hills of the lush Blue Mountain Range. The main house and surrounding cottages are typical of Jamaican colonial homes with simple, wooden antique furnishings. It is the perfect mountain escape for anyone who hopes they won't have to compromise luxury for wilderness. Along with its luxurious accommodations, the property also has an incredible Spa open to anyone looking for some R&R. They provide a wide range of services, but we recommend going for one of their messages. Treat yourself to their coconut hydro-scrub massage – it is pure decadence for body and mind.
Bob Marley Museum
Jamaicans often say their greatest export is reggae music, and the genre would be nothing without Bob Marley. Seen in many ways as a cultural hero, he remains one of Jamaica's most honored and influential people. The museum is located at the musician's old home. Still owned by his family, it showcases his incredible life from humble beginnings in one of Jamaica's poorest communities to worldwide recognition for his contribution to music and society. He is seen by many as a national hero for hoisting Jamaica's culture and people onto the world stage.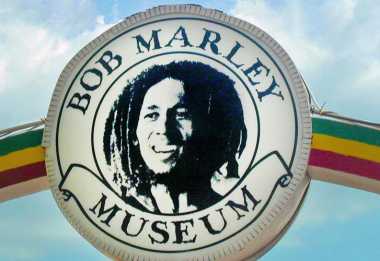 Party
Nightlife in Kingston seems never ending, and there is always a party, 'fete', or 'session' happening. Major parties and events tend to be seasonal, so the best way to find out what's going on is to talk to a few locals. Perhaps the best time of year to visit Kingston is between February and April when the celebrations for Carnival are in full swing. There is a party every week where patrons dance, wave and sing to soca, dance hall, and reggae music. The carnival season ends with the island's biggest party of the year, where people take to the streets to celebrate in some of the most colorful, intricate, and revealing costumes you've ever seen.
Attend a sports game
Jamaicans love sports, especially football, cricket, and track and field. With local athletes dominating internationally in all these disciplines, it's no wonder some offices are known to close early so their employees can go watch major matches or meets. Any sporting event in Jamaica is going to have the most lively and exciting fans you've ever seen – it will be a party no matter who wins. The national football team, called The Reggae Boyz, play home games at the National Stadium, while the national cricket team, The Jamaica Tallawahs, usually play at Sabina Park.
Tour Port Royal
Once known as the "wickedest city in the world," Port Royal is famed for being the pirate and shipping capital of the Caribbean during the 17th and 18th centuries. Famous plunderers like Captain Henry Morgan, Blackbeard, and Calico Jack all visited the city on numerous occasions, seeking refuge from law enforcement and gathering supplies for upcoming journeys. In 1692, half of the city sank after a devastating earthquake, but the remnants of pirates, Admirals, and battles still remain in the architecture and rusty canons that still keep watching at Fort Charles.
The Most Beautiful Beaches in Jamaica
Frenchman's Cove
The beach at Frenchman's Cove is one of Jamaica's most beautiful places. Surrounded on both sides by vegetated rocky cliffs, the stunning contrast between the green forests and cerulean sky and ocean make this place truly special. The films Lord Of The Flies and Knight And Day were filmed on the beach, showcasing both the beauty and wildness of the area. It is located on the eastern side of the island in Portland parish, far from the busy tourist towns like Ocho Rios and Montego Bay. While you're nearby, make sure to check out Blue Lagoon, another of Jamaica's most beautiful spots.
Treasure Beach
Located on the southern coast of the island, Treasure Beach is a hidden gem. It is never as crowded as the beaches on the north coast, giving visitors lots of privacy and tranquility. Spending an afternoon on the beach or in the local town feels like you've stepped back in time. With no all-inclusive resorts, this small fishing town has been able to retain its charm and personality over the years. The sea in this part of the island is known to be quite rough with heavy undertows, so be careful not to venture too far from shore.
Doctor's Cave Beach
White sand and crystal blue, calm water are what make Doctor's Cave Beach one of the best. Stepping into the water is like stepping into a perfect bath—warm and comforting. In the 1920s an English osteopath, Sir Herbert Barker, visited the beach and was impressed with its healing powers. Since then, the surrounding area has become quite commercialized with many hotels, restaurants, and gift shops located within walking distance. Check out our list for some of the best restaurants in the Montego Bay area for lunch with a view.
Seven Mile Beach
Seven Mile Beach is one of Jamaica's most sought-after paradises. Located in the resort town of Negril, the white sand and calm waters seem to go on forever. Many resorts and hotels are built right on the beach or well within walking distance. Visitors also have easy access to plenty of restaurants, shops, and water sport rental facilities. Stay for sunset and you'll be treated to one of the most spectacular light shows in the Caribbean as the sky changes from blue to bright orange, pink, and yellow. If you're looking for a good place to get some seafood, check out our list of the best places in Negril.

Boston Bay
Boston Bay is known for two things—its jerk and its waves. It is one of the few places on the island where surfers can be seen almost all year round. The beach is relatively small, with smooth sand and gorgeous blue water. If you are an experienced surfer hoping to catch a few good waves, the best time of year to visit is between June and July or November and December. Don't forget to try some of the area's famous jerk chicken or pork. And if the view alone doesn't charm you, the friendly locals will.
James Bond Beach
Located in Oracabessa on the north coast of Jamaica, James Bond Beach sits on a small peninsula about 10 miles from Ocho Rios. Ian Fleming, the writer of the James Bond novels, once called Oracabessa home. Scenes from the James Bond movie Dr. No was filmed on the beach. Every year, many concerts and parties are hosted on the beach. The most popular, Beach Jouvert, is in conjunction with Jamaica's carnival season.
MORE FUN THINGS TO DO
Come Celebrate 30 years of excellence with us!